WELCOME TO WEB SITE S5 SOTA SLOVENIA
WELCOME TO WEB SITE S5 SOTA SLOVENIA
SOTA Slovenija je združenje Slovenskih radioamaterjev ki vzpodbujajo radioamatersko dejavnost z vrhov hribov in gora. Torej tistih, ki imajo radi radioamaterstvo in gibanje v naravi.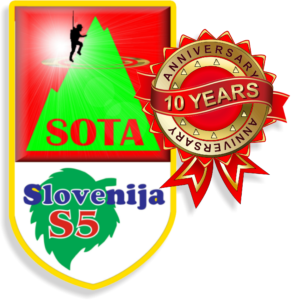 11.05.2008 smo ob 10.12 prejeli iz Anglije potrditev sprejema Slovenije v družino SOTA aktivnih držav. Malo kasneje, je bila novica objavljena na SOTA reflektorju. Tako smo postali 23. članica SOTA gibanja(Summits on the Air ), ki je bilo ustanovljeno leta 2002 v Angliji.
Za uradni začetek oziroma datum aktiviranja je bila določena nedelja 15. 06. 2008.
S tem je bil dosežen prvi cilj, ki si ga je zadal S5-SOTA team ( S51UJ – Brane, S53X – Miloš, S54Q – Boris, S57BBA – Bajko, S57XX – Jure, S58R – Rado ). Ob tem bi se rad zahvalil vsem, ki so pripomogli , da je Slovenija uvrščena na »SOTA zemljevid«, predvsem pa izpolnjeni vsi pogoji za aktiviranje to vrstne dejavnosti v S5. Še posebna zahvala velja S57XX – Juretu, ki je opravil levji delež, pri pripravi ARM dokumentacije.
73 de S58R – Rado
Vaš SOTA team